Today, August 9th, at 6 pm is the kickoff for the 2023-24 Greater Albuquerque NSBE Jr. Year!!!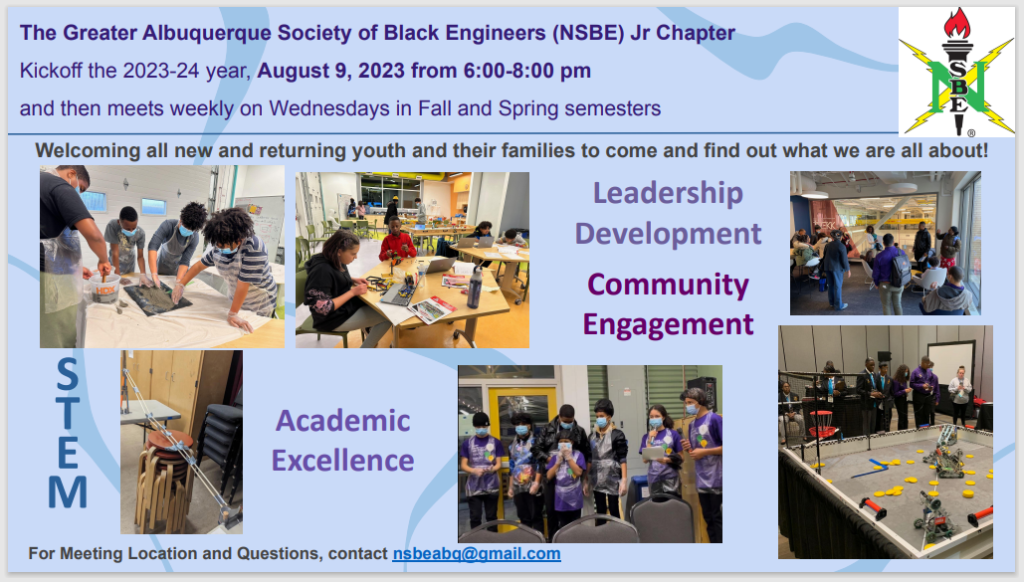 Today is the day! The Greater Albuquerque NSBE Jr. 2023-24 kickoff meeting will take place today, August 09, 2023 @ 6:00 pm to 8:00 pm. This interest meeting, for all new and returning members. Please contact us for meeting location. Chapter meetings are on Wednesdays in the Fall & Spring semester.
Please pass this message on to others who might be interested in this great group.
The Greater Albuquerque NSBE Jr. Chapter is a 501(c)(3) organization that exposes youth grades 3-12 to hands-on S.T.E.M activities with an emphasis on engineering and mathematics while fostering community engagement and professional development. The chapter meets weekly on Wednesdays in the 2023-24 Fall and Spring semesters.
NSBE Mission: The mission of the National Society of Black Engineers is "to increase the number of culturally responsible Black Engineers who excel academically, succeed professionally and positively impact the community. "